I get a lot of drug ad crap in the mail, but once in a while one really attracts my attention in a real 'WTF were they thinking' way.
Take Exhibit A: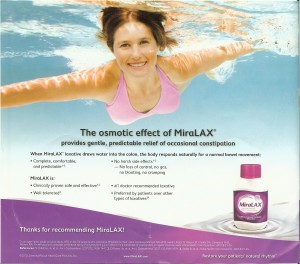 Now Miralax is like Metamucil, it makes you poop.  Now I'm not sure what floats your boat, but if I were constipated and needed something to soften my food-baby, the LAST place I would want to be in swimming in a pool with my mouth open when the brown tide decides to come in.  Is the woman supposed to represent a poop floating in the water?  How does swimming in a pool go with constipation?  Maybe if her skin were dissolving in the water it would be more along the lines of the 'osmotic effect'.  Maybe the force of the poop is propelling her through the water?  Should the water be going IN her butt?  I took it upon myself with my awesome drawing skills to make this ad more realistic: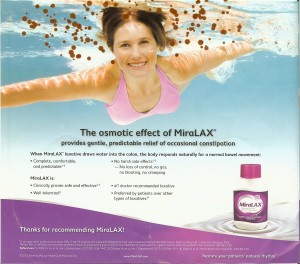 Remember kids, when you're straining like a puppy pooping peach stones, grab your Miralax and head over to the local pool, because nothing gets your bowels moving like an osmotic effect on both sides of the ole turd-cutter.