I cant believe I'm writing this.  The news is so shocking that my brain cant wrap around exactly how this could be.  I mean, part of me wants to do cartwheels, and another part of me just wants to sit and sob.  Its like I came home to find my wife making out with another hot chick and asked me to join while throwing me a huge dildo.   Shit I'm getting blue balls just typing that.
Hold on to your hats because……………
ACTAVIS IS NO LONGER MAKING PROMETHAZINE WITH CODEINE!
IM NOT FUCKING KIDDING YOU! THE INFAMOUS PURPLE DRANK IS FUCKING DEAD!
Dont believe me? Check your ordering system.  Amerisource has no listing.  McKesson has MANUFACTURER DISCONTINUED.  One of my sources reported that someone called Actavis and they stated that they have just decided to stop making promethazine with codeine.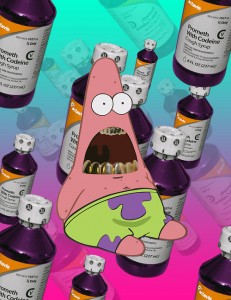 No longer will we be getting "do ya carry da actavis?" calls.  No more bitching from the crackheads that the QT or Hi-Tech brand "Dont work" or "I be allergic to dat shit".  No longer can people say "I can only take Actavis" because you know what, they can take a bunch of fucking nothing now.
Prometh with Codeine will no longer taste like ghettofab syrupy purple, it will taste like how all cough syrups should taste, like goat anus.  They aren't meant to fucking mix with Sprite and enjoyed after a long night of fucking your bitches and collecting taxpayer-funded benefits; they are meant to be choked down because you'll do anything to get rid of that fucking cough.  Wait, did I imply that 'da Actavis' WASN'T used for legit medical reasons?  Well unless theres an ICD9 code for "My life sucks and want to get high"; then yes, I did imply that.  If you want to get fucked up on cough syrup, deal with the aftertaste of pennies and last nights digested dinner in your mouth you fucking crackheads.
This is fucking great.  Hats off to Actavis for actually realizing that their name was synonymous for "Abuse and Diversion" like Kleenex is to facial-tissues. If Watson stops making the DAN Somas, I think I just might die.
Now if we can only get QT to take the yellow out of the Norco 10.